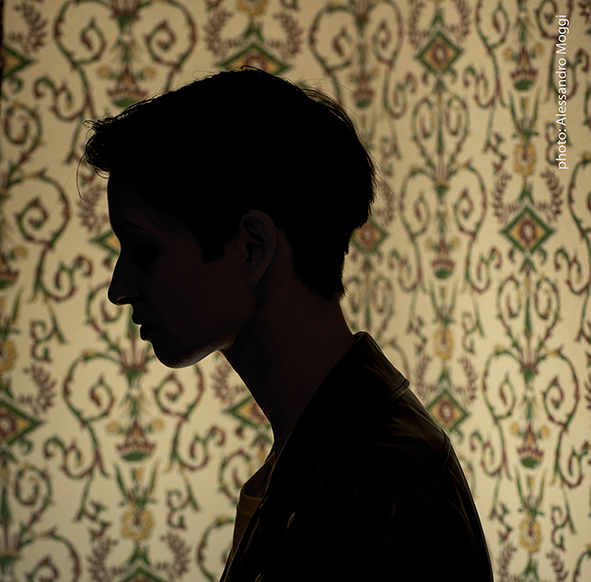 see >>    MP5 artist biography on Widewalls              ph: Alessandro Moggi
MP5 è un'artista italiana nota per il suo incisivo stile di disegno in bianco e nero che utilizza in numerosi e differenti media, dal disegno ai video di animazione passando per il muralismo e l'installazione.

Le sue immagini rimandano all'arte classica dando forma ad una nuova mitologia che sottende una visione critica e politicamente impegnata della realtà; attiva fortemente nella scena artistica underground  e nella controcultura europea, negli ultimi dieci anni ha infatti strettamente legato il suo lavoro alla scena queer e femminista.

Nata a Napoli, studia scenografia per il teatro all'Accademia di Belle Arti di Bologna e animazione presso la Wimbledon School of Art di Londra. Dagli studi di scenografia deriva un legame stretto e duraturo con il teatro di ricerca, rintracciabile soprattutto nelle sue installazioni audio/video, ma che continua ad influenzare anche i suoi grandi interventi murali, dislocati in numerose città del mondo.

Le sue opere e installazioni sono state esposte in festival e musei tra cui la Biennale dei Giovani Artisti dell'Europa e del Mediterraneo, La Galleria Nazionale d'Arte Moderna di Roma, il Teatrino di Palazzo Grassi a Venezia, La Condition Publique di Roubaix, il Theatre National di Bruxelles. Nel 2013 ha rappresentato l'Italia per il progetto 'La Tour 13' a Parigi e nel 2016 ha tenuto la sua prima mostra personale italiana presso la galleria Wunderkammern di Roma. Ha collaborato con il regista Abel Ferrara, con la designer e gallerista Agnes B a Parigi e con la galleria Lazarides di Londra.

Attualmente collabora con Gucci per la campagna Chime for Change  sull'uguaglianza di genere.

Ha pubblicato illustrazioni su numerosi settimanali e magazine tra i quali Internazionale, Le Monde Diplomatique, Linus, Il Male e disegnato per festival di teatro e di danza contemporanea internazionali tra cui il Festival XS di Bruxelles, il festival Short Theatre di Roma, il Festival Latitudes Contemporaines di Lille e il Festival Rencontres Chorègraphique di Parigi.

Ha pubblicato tre libri: Acqua storta (dal libro di L.R.Carrino, ed. Meridiano Zero 2010), Palindromi (ed. GRRRzetic 2012) e Changes (ed. GRRRzetic 2016).

---

eng

---

MP5 is an Italian artist, muralist and illustrator widely known for her incisive black and white style.

MP5 works with different techniques and mediums: from illustrations for newspapers and magazines to political posters, from drawings to video/audio animations. Her background is settled in the Italian and European underground scene and counterculture. MP5 designs posters for political demonstrations, concerts, theatre festivals and her public mural works can be seen in England, Spain, France, Germany, Italy, Croatia, Slovenia, Sweden, U.S.A, Hong Kong.

Among her participations are La Condition Publique (Roubaix, France, 2017), LE M.U.R de Saint Etienne (France, 2016) and the installation Pandrogeny at Theatre National de Bruxelles (Brussels, Belgium, 2017). Her illustrations and murals were published on newspapers and magazines including Le Monde Diplomatique, Linus, Liberazione, Il Male, Blue, Animals, Il Mucchio, Vogue, Wooster Collective, Juxtapoz, Cosmopolitan China.

She worked with several European publishers like the Italian LaTerza, the Spanish Norma editorial, the French La Boite À Boulle, the German Schreiber & Leser. MP5's artworks were exhibited in relevant international festivals and art institutions, such as the Galleria Nazionale d'arte Moderna in Rome, the XII Biennal of European and Mediterranean Young Artists, the Triennale di Milano, the Macro in Rome, La Condition Publique de Roubaix, the Theatre of Palazzo Grassi in Venice.

MP5 has collaborated with  Wunderkammern gallery in Italy, with the Lazarides gallery in the UK, with the designer and gallerist Agnès B and with the director Abel Ferrara. She also collaborated with the musician and composer Teho Teardo for the theatre show Phantasmagorica. She represented Italy for the project La Tour 13 in Paris.

In 2016 her mural The Root of Evil was chosen as one of the world's 20th most beautiful murals according to Wide Walls, one of the most renowned communities in the field of street art. MP5 published three books: Changes (ed. GRRRzetic 2016), Palindromi (ed. GRRRzetic 2012) and Acqua storta (ed. Meridiano Zero 2010, also published in Germany as "Der Frevel am Altar der Heiligen Klara"), for which she won the prize as the best Italian drawer at The Napoli Comicon.

She is currently working together with Gucci on "Chime for Change", a global campaign for gender equality.